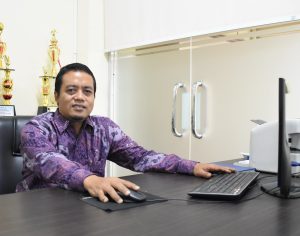 Assalamu'alaikum Warrahmatullahi Wabarakaatuh, Alhamdulillah, with the website of the University of Mercu Buana Lecture Operations Bureau, hopefully it will provide more information about the information that will be presented by the Lecture Operations Bureau (BOP) through on-line media where all users can retrieve information that is always updated and presents various kinds of information. BOP carries out lecture and exam operations as well as operational maintenance of the central computer laboratory as a means of supporting lectures and exams.
BOP is able to prioritize work and real performance that are innovative, efficient, precise, fast, accurate, and must be oriented towards good and useful results based on customer or user satisfaction.
Now job satisfaction is something that is in line with every staff or employee, with the satisfaction that can be obtained from success in working even though only in minor matters and this job satisfaction will also have an impact on changes in the tendency of the spirit of progress for each. staff who have been developed mentally, spiritually and skillfully, no longer say that they violate procedures, but only individual improvises the work they are doing in order to get the best results.
We hope that input and suggestions that build continuous improvement will make this website useful for users and partners.
That is a little description of the presentation of the University of Mercu Buana Lecture Operations Bureau website which we will display for users, hopefully it will bring mutual benefit. With the concern of units and users to be better and more professional, it is hoped that Mercu Buana University will be able to realize its vision and mission and become a superior and useful University for all time. Aamiin YRA.
Wassalamualaikum warahmatullahi wabarakatuh
Jakarta, 01 Juli 2019
Head of Lecture Operations Bureau
Marsani, S.Kom.,MM